We have an old MiniHelix 35w laser in the shop that I am trying to get running. It engraves, it cuts but there are several issues I wanted to see if anyone had any advice on. I know virtually nothing about laser engraving and cutting, the first time I'd ever even seen one in action was when I got this one connected a couple of weeks ago.
1. CUTTING - cutting 1/8" acrylic is possible...if I set the speed to 1 (slowest) and the power to 100. Doing that means it takes 5 mintues to cut a simple 4" x 4" shape. Cutting 5mm luan plywood takes 4-6 passes to get through.
2. ENGRAVING - I'm not getting much depth. I can lightly etch acrylic giving it a decent frosted look but I was expecting to be able to slow things down and get a better depth. Even 1/32" would be nice.
3. WORKING AREA - The machine has a 12" x 24" working area....I can realistically use the top left 6" x 6" area. Once outside of that it's like the laser loses strength. I am currently running a 12" x 12" wood block....the left side is beautiful...then fades to nothingness on the right side. I checked the focus using the focus tool and used that to make sure the "deck" was level all the way across and everything seems to be perfect. I even tried shimming up the right side to see if that helped but it didn't.
I've cleaned the lens and the reflector with a lint free swab wipe and purified water. The Epilog help section isn't really very helpful. Is the machine just underpowered? Out of whack? Worn out? Anyone have any ideas?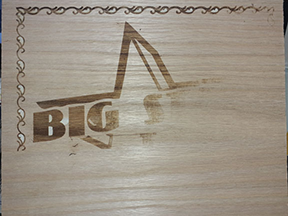 Last edited: