Support & Tech Administrator
As you all know - Signs101 is now running on the Xenforo platform.
Eon Media
and I believe the migration from vBulletin is a great move for the community and hope that once you've familiarized yourself with the featureset - that you too will agree that the current Xenforo install is superior and an upgrade from the vBulletin platform.
I will post a bit more info about the enhanced featureset and some mini how-to's in this thread. If you have any questions - feel free to ask. But even more importantly - we hope you enjoy the Signs101 upgrade. If you haven't already done so - please let us know what you think of the upgrade and vote in the poll at
We're Back Online With Our New Design!
Thanks for your attention.
J.
-------------------------------------
-------------------------------------
USERBAR WITH DROPDOWN MENUS:
The new, highly intuitive userbar --
located in the top portion of all forum pages
-- contains a plethora of information: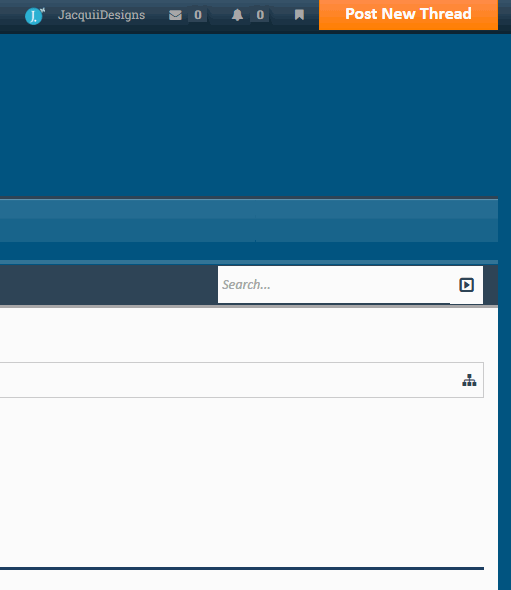 You'll be able to easily access your profile settings, PMs
(which are called "Conversations" on the Xenforo platform - but we still call them PMs LOL)
, post alerts and bookmarks as seen in the screencap above. Simply mouseover the corresponding icon to view profile settings and other information.
POSTING NEW THREADS MADE EASY:
There are various ways to post a new thread now. You'll notice the "Post New Thread" button in the upper right-hand corner of all forum pages. Clicking it will open up a list of the various sections that are open for posting: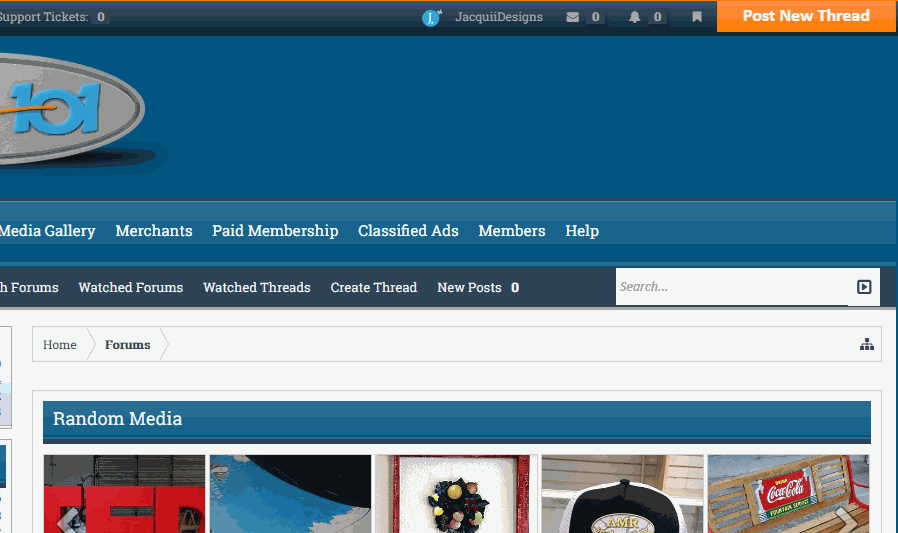 There is now the option of posting a new thread directly from the main forum index as well. Simply locate the "Create Thread" icon and click it: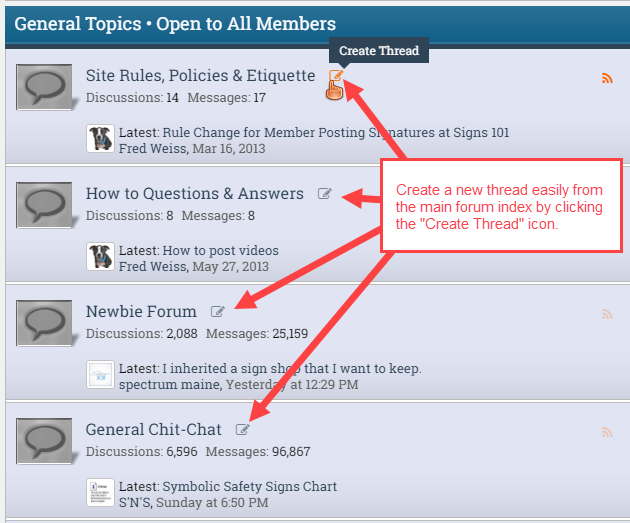 Of course there is also the "Post New Thread" button --
quite similar to the old vBulletin install
-- which appears in the actual threadview listings.
NEW POSTS AND ALERTS EXPLAINED:
We have added a "New Posts" prompt that will tell show the amount of unread forum posts:

As of this posting - The number *should* actually reflect the amount of posts that you had not read when the forum was on vBulletin within the past 365 days. If the number of unread posts you see is an exorbitant amount, then you might
click the link
and see what you've missed out on. Otherwise - You can clear the New Posts cache by clicking the "Mark Forums Read" link which appears in the "Forums" dropdown menu and/or sub-navigation link.
If you are browsing a particular forum, you also have the option of choosing whether to mark all forum posts read OR only the posts of the particular section:

We've also added functionality that allows you to mark a specific thread as read. Mousing over a thread in the threadview list should produce a "Mark as Read" link. The same link will appear when mousing over the New Posts listings on the new homepage. Clicking the link will effectively remove the thread from your New Posts list and mark it as read: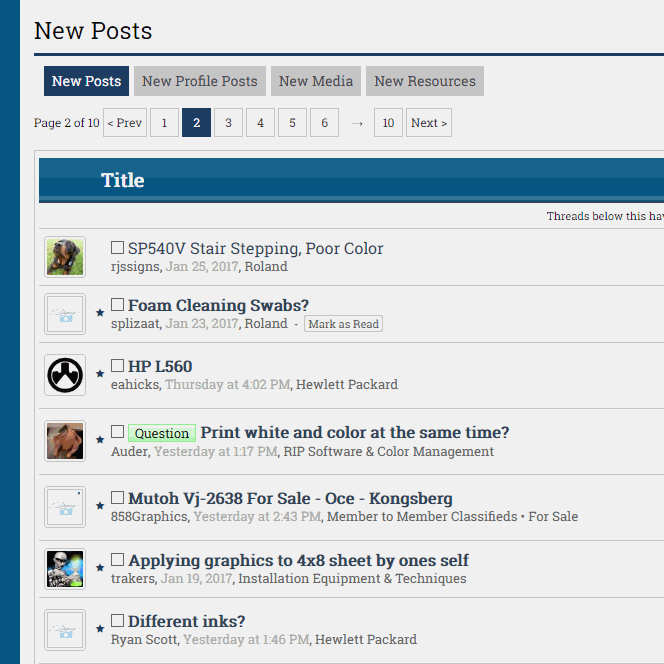 RECENT ACTIVITY STREAM:
If you have yet to notice, the Xenforo platform provides a sweet bit of functionality in its
Recent Activity stream
. Most all publicly viewable thread posts, profile posts, likes, media gallery additions, etc... can easily be viewed by clicking the "Recent Activity" link. You'll find it in the "Home" main navigation bar dropdown and/or sub-navigation menu: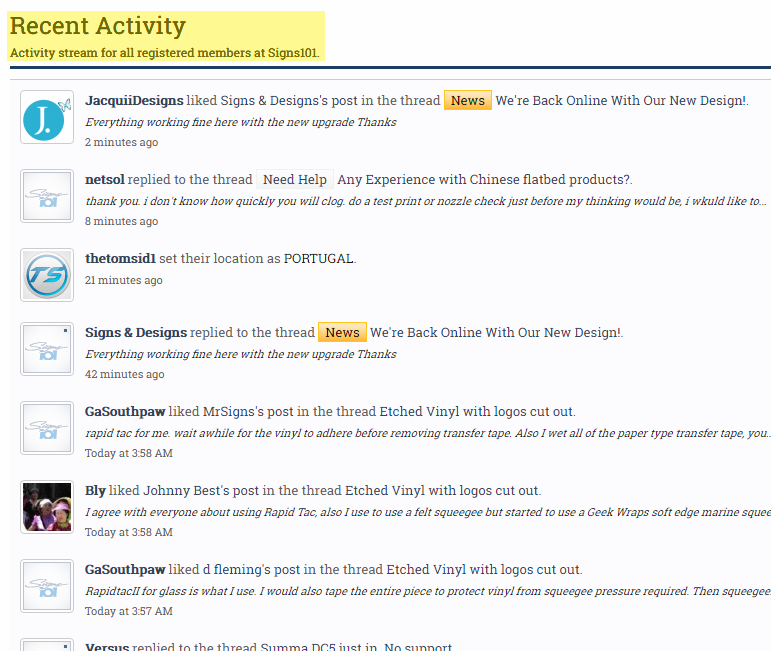 This particular functionality actually has great potential and is *sorta* similar to the Facebook wall or other social media main content pages. Hopefully its functionality will be enhanced with the advent and introduction of Xenforo 2, which is being developed as I type and will be introduce later this year.
It's a great little page, though, for seeing what's really going on in the Signs101 community.
BOOKMARK YOUR FAVORITE CONTENT:
Signs101 now has a full-featured Bookmarks functionality! Find something especially helpful? Bookmark it for future reference. There is the option of both private and public bookmarks. Your public bookmarks will appear in its own tab on your profile page. If you enable the "Quick Links" option - the bookmark(s) will appear in your userbar Bookmarks dropdown. All of your bookmarks will be listed on
your profiles Bookmark page
for easy access.
It's quite intuitive and self-explanatory - but here is a screencap to show you the way: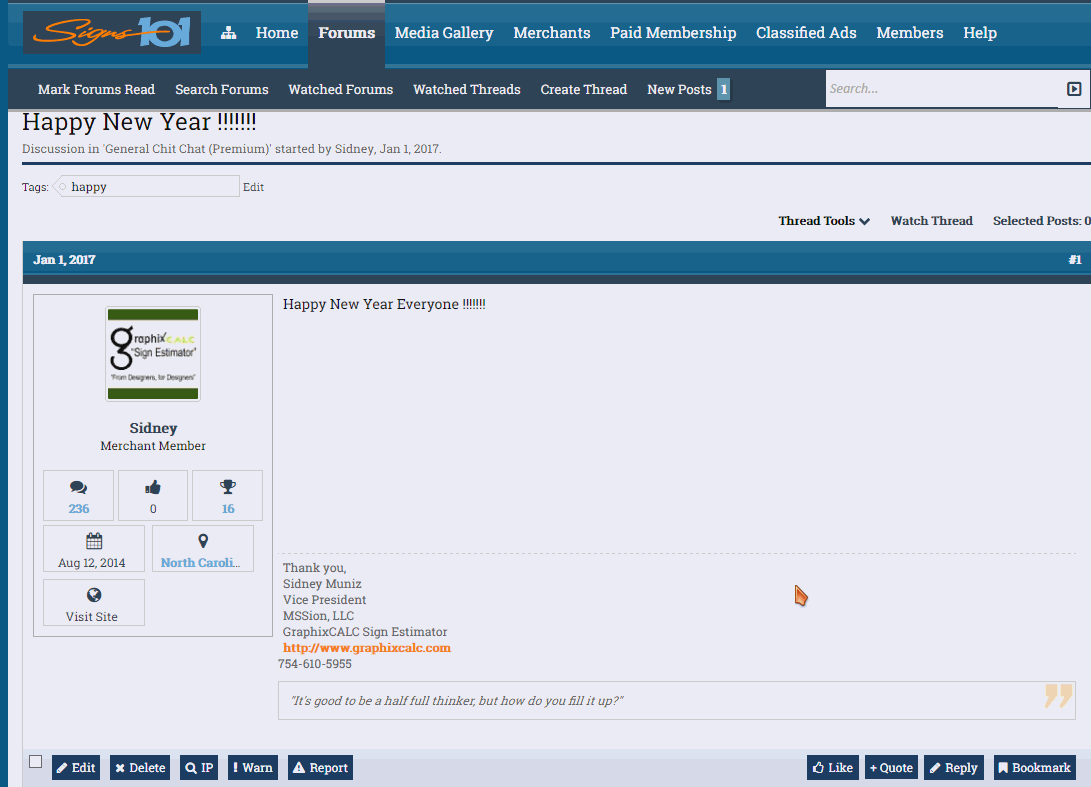 Not only can you bookmark entire threads & specific posts, but the bookmarks functionality extends to media and
Merchants section
as well. Bookmarks can easily be added into posts as well by clicking the "Insert Bookmarks" link in the postbit post controls:

More exciting, new features and functionality additions will be posted in the next few posts.
Thanks again for your attention.
J.
Please note that at the time of this posting, the Merchants section is a bit incomplete and under construction. We will have all issues resolved in the coming days. Thanks for your patience.
Last edited: