A while back I think I posted some brochures I designed for our town. One of the brochures had a map that was used for a walking tour for the murals we did last summer.
Well, our main street organization (P.R.O.U.D.) stopped in and needed to use the map we designed for a national main street completion. Pontiac has made the final 10 (or 8) in the entire country.
A map of the downtown is a requirement for the finals. The problem is, I based the design off of a photo that we borrowed from city hall, that was taken in like the 60s or something. It was an areal shot but of only the downtown square not the whole downtown commercial district, which is what they needed.
So a few weeks ago I got to go for a plane ride just to take reference photos in order to expand the map.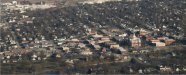 There is no way we were going to get the exact same angle as the first photo, and I wasn't going to start over, so most of the buildings to the left were all done using only perspective lines and the new photos as references.
Sure we could have just made a top down map, but I'm hoping the extra detail will help wow the judges.
Keep you fingers crossed for Pontiac.